Maggie the Irish Wolfhound puppy is at the half waypoint of her training with us.  She has made great progress in her first week.  This is right where we like to see our clients at this point.  Maggie has gotten the hang of all her new behaviors and the new structure that will help her succeed.  We want Maggie to be super solid and ready for her family to continue with all of her training when they pick her up next week.  At this point, we will continue to reinforce this new life style and continue to expose her to everything we can.
Her trips to the PetSmart and Home Depot are going well and she is becoming very popular with the folks who work at those spots.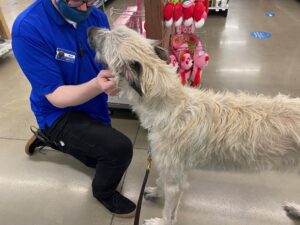 It has been so much fun to watch her become the confident and outgoing puppy she is working to be.  Like all training, this is a process.  Maggie still has a way to go with us and with her family when she returns home.  Interactions with strangers like the one in the video here on our Facebook page are great to see.  Maggie is a great example of just how striking an Irish Wolfhound looks and she draws a lot of attention everywhere we go.  I have never walked a dog and gotten so many glances and questions before.  This newfound confidence and her polite manners will allow her and her family to enjoy all of the attention she will receive.
It is easy to forget Maggie who is taller than Hank our adult Newfoundland Dog is still a ten-month-old puppy.  Watching Maggie play in the snow this week was a great reminder she still is a puppy.  Watching her frolic in the snow reminded me of watching baby giraffe learn how to maneuver their giant bodies.  A dog Maggie's size running and playing in the snow was an amazing site to see.  She is such a sweet and playful little girl.  She has been such a fun puppy to work with.  We cannot wait to have her family see the results of all her hard work!